Fence Company in Laurel, MS
Since 2012, Southern Fence Company has provided smart solutions for the fencing needs of home and business owners. We specialize in vinyl, wood, chain link, aluminum and iron fence installations, removals, repairs and gating. We are your go-to source for all residential and commercial fencing contractor projects.
Commercial and Residential Fencing Contractor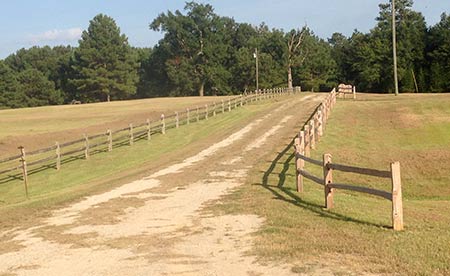 At Southern Fence Company, we know you want more than fencing from your contractor. You want value, service and reliability. That's exactly what we offer. Our experienced fencing contractors are equipped with the knowledge and skills needed to complete your project on time and on budget. Plus, we are committed to the delivery of friendly, reliable service throughout your project. Our specialties include the repair, installation and removal of wood, vinyl, chain link, aluminum and iron fences. We also install and maintain gates and gate access control systems. With extensive experience and a commitment to quality, it's easy to see why we are the leading fence company in Laurel, MS.
Locally owned and operated, our fence company brings over 10 years of experience to every project. With the tools and techniques necessary for any fencing need, our team can't be beat. Whether you want to keep the dog in or the trespassers out, we have you covered. From elegant residential styles to commercial chain-link fences, we offer industry-leading brands and products to meet all your fencing needs. Home and business owners alike have come to know the name Southern Fence Company as their trusted fencing contractor in Laurel, MS. With this name comes the many benefits of partnering with us for your fencing project:
We are a locally owned and operated fence company, with over 10 years of experience.
We offer free estimates.
Our expertise includes all types of commercial and residential fencing.
We provide professional services for installations, removals and repairs of fences and gates.
Customers are our #1 priority and we strive for complete customer satisfaction.
Secure Your Surroundings
Contact the experts at Southern Fence Company today to create the safe, stylish and affordable fencing you desire.
Areas Served
Proudly providing all fencing contractor services to the following locations:
Laurel, MS
Ellisville, MS
Taylorsville, MS
Bay Springs, MS
Hattiesburg, MS
Waynesboro, MS
Richton, MS
Collins, MS
Heidelberg, MS
Magee, MS
Jones County, MS
Jasper County, MS
Smith County, MS
Covington County, MS
Perry County, MS
Forrest County, MS
Wayne County, MS
Clarke County, MS